The NBA Summer League:  a chance for rookies to display their talents to the new fan base, a chance for on-the-fence second years and free agent players to prove they are still valuable and a chance for everyone else to watch the up and coming talent.
More than in years passed, the 2017 Summer League was highly anticipated with plenty of big storylines coming in.
Who stood out the most this Summer? Who did not live up to the hype? And what are some of the biggest takeaways?
Here are my reviews of the action the past two weeks.
[Lavar] Ball don't Lie
Okay, so he might a little bit, but he certainly was not lying about his son Lonzo. Ball's passing skills this summer were as good as advertised which gave something for Lakers fans to be excited about. Although his passing skills were sharp, he did display some weaknesses in the half court set, on defense and his three ball was off. Still, his passing skills, his triple doubles  and his transition game were impressive enough to win him the NBA Summer League MVP and the Lakers the Summer League Championship.  He might not lead the Lakers to the playoffs in his first year, but Ball and this young team should be a fun one to watch.
Kuzma's New Groove
Lets stay out here in Los Angeles and praise another really good young Laker, Kyle Kuzma. After watching the draft and doing my draft reviews, I considered the Lakers a winner not only because of Ball but because they got quality picks near the end of the first round. One of them was Kuzma. Kuzma ended the Summer League averaging 21.9 points, 6.4 rebounds, 2.7 assists and 1.4 blocks per game. He also led the Lakers offensive charge in the Championship game with 30 points and 10 rebounds in a 110-98 win over Portland, a game which Ball sat out with an injury. So Lakers fans I know you are excited about Ball, but don't forget you have another really good rookie joining the team next year.
Dennis the Menace
The player that stole the show in my opinion is Mavericks rookie point guard Dennis Smith Jr. Everynight that I tuned into Sportscenter the past two weeks, I constantly saw highlights of Smith Jr's in the Top 10 plays. He ran the pick and roll to near perfection and he has such an explosive first step, a lot of times he would blow by his defender for a thunderous dunk. Right now, Smith Jr's game seems to be an ideal fit for the current Dallas roster and he could be a dark horse to win the Rookie of the Year award.
The Mitchell Report
Although Jazz fans might be saddened by the departure of Gordon Hayward, they should be getting excited about their newest member, rookie Donovan Mitchell. Yes, he only played five games, but what impressed me and others around the league was his scoring ability in those handful of games. Most teams knew he was going to be a great defender coming out of college, but during the Summer League action he displayed a whole lot of offensive talent. He hit his spot-up threes, he looked good shooting mid-range jumpers, he could create his own shot with the ball in his hands and he drove to the basket well. It is a small sample size but Jazz fans should look towards the future with Ricky Rubio, Rudy Gobert and Mitchell.
Iso-T
Jayson Tatum had praise of possibly being the most polished scorer in this year's draft class and he certainly portrayed a lot of those skills. More specifically, he looked like a veteran in the isolation plays. That is good news for the Celtics organization because last season outside of Isaiah Thomas, Boston had no one at the wing or guard position that could create for themselves and others. Guys like Jae Crowder, Avery Bradley, Gerald Green, Jonas Jerebko and even Al Horford got a majority of their points from spot-up three pointers. The free agent signing of Hayward and drafting of Tatum will definitely help Boston fix that problem. Tatum should be a good go-to option next season with the Celtics second unit.
Windy City Woes
Nothing is going the Chicago Bulls way this offseason. Two of the three pieces the Bulls got in return from the Butler trade played in this year's summer league and both played poorly. Kris Dunn played one game, scored 11 points but shot 3-12 from the field, while the No. 7 overall pick Lauri Markkanen shot just 29.3% in three games for the Bulls. Cameron Payne looked pretty bad this summer and shot under 35% and second year guard Denzel Valentine shot just a hair over 35% (35.1%) and averaged only 13 points per game in five games. All four players are expected to get plenty of playing time next year in Chicago and all four shot under 36%. The future does not look too bright in the Windy City.
Forbes List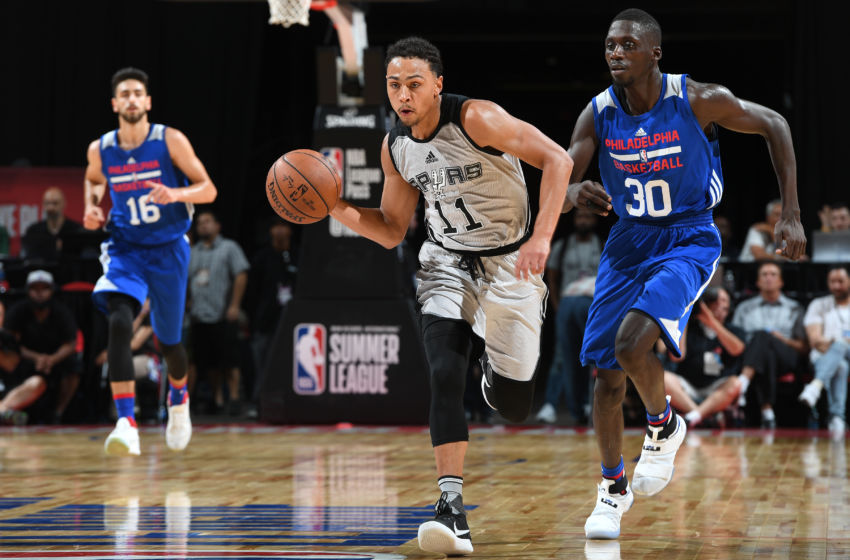 Outside of the Lakers Brandon Ingram who only played one game, Bryn Forbes had to be one of the most impressive second year players in the Summer League. He led the Utah Summer League in scoring and finished 3rd in the Las Vegas league. He shot just over 42% from the field in the process as well. Although he recieved less playing time last year than than teammate Dejounte Murray, it was Forbes who was the best second year guard on the Summer League roster. With Jonathan Simmons now in Orlando and Manu Ginobli's retirement a possibility, expect Forbes to get a lot more action and may even edge out Murray for minutes next season.
Big Poppa 
Caleb Swanigan thus far has lived up to the nickname "Biggie" and might have been the least talked about rookie at the Summer League despite playing terrific basketball. In fact, he became the fourth NBA rookie in history to average a double-double in Summer League joining Blake Griffin, Kevin Love and Marreese Speights. Swanigan averaged 16.1 points and 10.6 rebounds per game while leading the Trail Blazers summer team all the way to the Championship game. He shot 43.8% from the field and was named to the All-NBA Summer League first team. Portland could really use a stretch-4 type of player to pair alongside Damian Lillard and Jusuf Nurkic and Swanigan just might be there guy.